Keep watching this page for exciting information about how young people can be involved with our Circuit!

Easter Holiday Club
Cornerstone Wed 17th April 10.00am -- 1.00pm
Includes lunch. Cost £3 per child
Must be at school so aged 5+
Contact Caroline Barratt on cbarratt50@gmail.com to book your place.
New Youth Discipleship Group
Do you attend Senior School? Would you like to look more deeply into the difficult questions ,what it means to be a Christian and what impact this might have on your life? Then this is the group for you — a space where you can talk freely in a relaxed atmosphere.
The first meeting: 3rd February with 6 young people.
What did they do? Games and discussions covering subjects such as how they feel when they come to church, what they like and what they don't like about church, the many pressures they face and other topics.
Their next two meetings are on the dates below and Caroline would love to see some more young people there. Come along and give it a go!
Sunday 3rd March 6.30pm — 8.00pm at Central
Sunday 7th April 6.30pm — 8.00pm at Rothwell
Please contact Caroline Rice on Kett 506355 for further information
Brownies Cheer Cornerstone
The Brownies at Cornerstone have been so impressed with our new kitchen that they thought the back yard needed some loving care and attention. They have been planting flowers to make sure that everything is bright and cheerful when we look out of the window!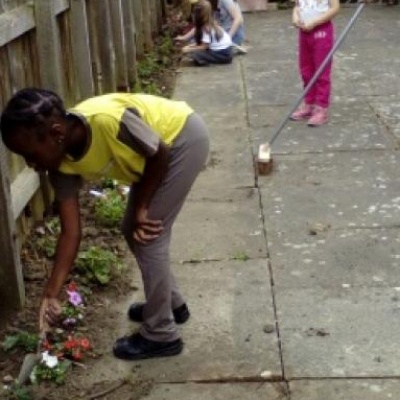 Trooping The Colour
On Saturday June 9th a group of 7 members of 3rd Kettering Boys Brigade attended the Trooping of the Colours in London. They were escorted to the youth enclosure shared with many other youth organisations from all over the country. We managed to get to the front of the enclosure and can even been seen on BBC 1! The arrival of the Royal family provided some great pictures. After the ceremony our group got the opportunity to follow the Queen and a police escort down the Mall waving to the public who were cheering and taking pictures of us. We then got front row view to the balcony and watched the Red Arrows fly past. We all had a fantastic day which we will never forget.
Lydia age 15 years.